Date: October 31st, 1999
Type: Boeing 767-300ER
Registration: -
Operator: EgyptAir
Where: Nantucket, Massachusetts, USA
Report No.-
Report Date: -
Pages: -

This is not an accident investigation report.

An EgyptAir plane with 217 people on board crashed early Sunday off the island of Nantucket, Massachusetts, en route from New York to Cairo, Egypt. The U.S. Coast Guard recovered several bodies from the water.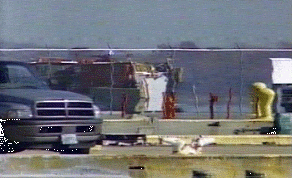 Wreakage recovery


The aircraft a Boeing 767 disappeared from radar screens after taking off from John F. Kennedy International Airport in New York. All 217 on board were killed.

A massive search as conducted by the Coast Guardin the area where the Federal Aviation Administration lost contact with the airliner. The plane disappeared about 2 a.m. EST, about 65 miles (100 km) southeast of Nantucket.

"The Coast Guard has in fact reported that they have recovered some bodies, more than one. The exact number is unknown at this point in time," said Robert Kelly, aviation director of the New York and New Jersey Port Authority.
Coast Guard Rear Adm. Richard Larrabee said that clothing, passports, life rafts, airplane seats and lifejackets were among debris found near the crash site. The plane was apparently carrying 199 passengers and 18 airline employees, according to EgyptAir officials.

The Boeing 767-300ER had a contingent of 199 passengers, 15 crew members and three employees who were not working on the flight, according to EgyptAir officials. Thirty-two passengers stayed on the flight from Los Angeles. EgyptAir head Mohammed Fahim Rayan said at a news conference in Cairo that 62 Egyptians, two Sudanese, three Syrians, and one Chilean were aboard the plane as passengers. There was no record of the nationality of the other 131 passengers, and Rayan said he believed some of those were U.S. citizens.

The plane departed New York at 1:19 a.m. EST. The plane was flying at 33,000 feet (9,900 meters), said Eliot Brenner, chief spokesman for the FAA in Washington. There was no indication of a distress call, U.S. officials said. But airport officials in Cairo said the last communication from the plane's crew was an SOS sent after the takeoff from New York.

The FAA contacted the Coast Guard about 2:15 a.m. EST, said Coast Guard Lt. Gary Jones. "We're doing a very, very aggressive airborne search at this moment. Basically, if there is someone out there to be saved, saving lives at sea is our most important mission and we're doing that," Jones said.

An FAA spokesman said the plane departed two hours and 20 minutes late from JFK because it was late coming in from Los Angeles.

The airline identified the pilot as Hakim Rushdi, who had more than 10,000 hours of flight experience. Colleagues described him as a "very experienced pilot." The airline said he had been in contact with his son, also an EgyptAir pilot, hours before leaving.
The airliner was built in 1989 a, 767-300ER, an "extended-range plane known for its North Atlantic service", said Boeing spokeswoman Barbara Murphy.

The National Transportation Safety Board has begun an investigation, an NTSB spokesman said, and the New York Port Authority has set up a mobile command center.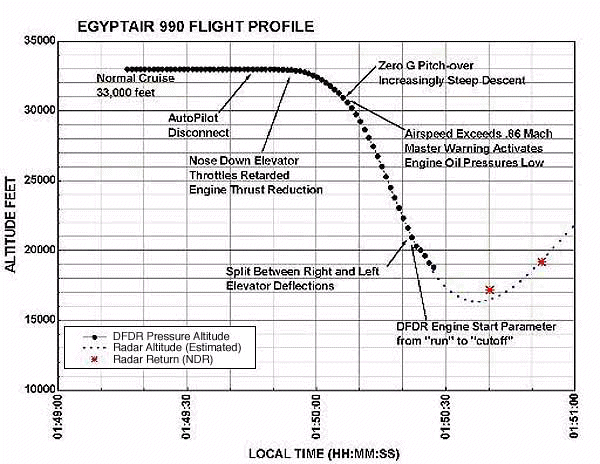 NTSB Flight Profile, From the Flight Data Recorder