Date: August 31st, 1999
Type: 737-204C
Registration: LV-WRZ
Operator: Lineas Aereas Privadas Argentinas
Where: Buenos Aires, Argentina
Report No.: -
Report Date: -
Pages: -

This is not an accident investigation report

BUENOS AIRES, Argentina (CNN) -- An Argentine jetliner with nearly 100 people on board crashed during takeoff from Buenos Aires' domestic airport late Tuesday and burst into flames.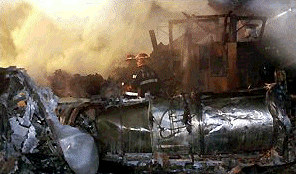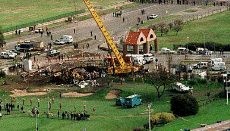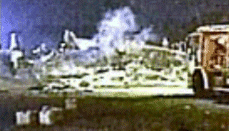 Flight 3142 was scheduled to departure at 20.36h for a 1h15min flight to Córdoba. Before take-off the crew experienced problems with the no.1 engine. Three engineers tried to fix the problem and, after losing 4 positions for take off, the aircraft took off at 20.55h. When the plane started to climb at about 250km/h at a height of about 2 feet over the runway, the left (no.1) engine caught fire, the plane then settled back on the runway. It overran the runway and started, crossed the airport boundary and crossed Costanera Avenue. Some eight cars were hit as the Boeing 737 crossing the avenue. After crossing the avenue it struck a contruction area at the "Costa Salguero Convetion Center & Golf" There were conflicting reports on casualties. Some local authorities said at least 80 people were killed. However, two local hospitals reported at least 24 people had survived and were being treated for injuries. Some survivors were reported severely burned.

Television images showed fire crews spraying water on burning twisted wreckage. Bodies were seen littering the crash site. The plane, a Boeing 737 operated by LAPA, Lineas Aereas Privadas Argentinas, overshot the runway of Jorge Newberry airport, skidded across a service road and slammed into a golf driving range just outside the airport.

Local media reported the plane that Flight 3142 was trying to take off on a flight to the Argentine city of Cordoba at 9 p.m. local time (0000 GMT). "It (the plane) went past the length of the runway. There is a vehicle that was hit," said an Air Force spokesman at the scene.

Police cordoned off the site as firefighters poured streams of water on the wreckage. Ambulances took away victims, sirens blaring in the night amid the confusion of the scene. The airline had no immediate comment. Police blocked routes all around the airport, creating huge traffic jams along key arteries.