Date: January 30th, 2000
Type: A310-340
Registration: 5Y-BE
Operator: Kenya Airways
Where: abidjan, Ivory Coast
Report No.-
Report Date: -
Pages: -

This is not an accident investigation report.

Kenya Airways Flight 431 departed from Nairobi for a flight to Lagos and Abidjan. Due to the harmattan, a dusty seasonal wind from the deserts of north Africa, the flight continued directly to Abidjan. At 21.08h the aircraft took off again for Lagos. Within a minute after takeoff the aircraft was seen to crash about 1km offshore. Three-foot high waves existed in the area; about 10 survivors have been found.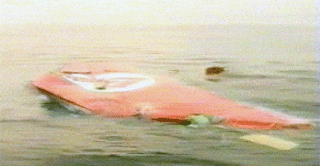 An armada of small fishing boats and navy vessels is scouring the ocean off Ivory Coast for survivors of a Kenya Airways crash in which around 170 people are feared to have died.

Rescuers and medical staff said at least nine and possibly 10 survivors had been thrown clear in the Sunday night crash and taken ashore but the body count rose rapidly after daybreak, with at least 49 corpses fished from the sea.

The Airbus 310, flight KQ431, from Ivory Coast's main city Abidjan to Nigeria's commercial capital Lagos with 179 people on board, crashed minutes after taking off from the international airport on the outskirts of Abidjan.

The crash was Kenya Airways' first and the first major airliner disaster of the year. "It broke up on impact. It broke into 100 pieces," medical worker Alain Thonar, who is attached to a private emergency service that works with the airport, told Reuters. "It's sad all those bodies floating everywhere," said Gerard Frere, owner of a fishing boat that took part in the rescue. Kenya Airways said 168 passengers, most of them Nigerian nationals, and 11 crew were on board. "We have taken in nine injured people," said Dr Moussa Soumahoro, a doctor at the country's top private clinic. He said one of the nine survivors was seriously hurt. Boats rescued eight people from the water. An ambulance worker said a ninth survivor had managed to swim ashore. Thonar travelled by helicopter to the crash site, about 3,000 metres from the shore. "We were seeing bodies floating," he said. The sea was calm but there was no moon overnight.

BANGS HEARD AS PLANE WENT DOWN

Some witnesses reported hearing bangs as the plane went down. "There were three loud explosions," Thonar said, quoting witnesses from the beach. Other witnesses spoke of seeing lights at the surface before the plane went down. The first to the scene were boats from a local sailing and sea fishing club. "There is wreckage and corpses scattered over a wide area," one source in contact with the rescue boats told Reuters.

Two helicopters with searchlights criss-crossed the scene. Rescuers quoted one survivor, a Nigerian, as saying that the plane had gone done three minutes after takeoff. Thonar said that the plane sent the control tower a radio message, saying that it was going down one minute after takeoff.

The coast of West Africa is prey to treacherous currents which often sweep bathers away. Rescue sources said kerosene on the corpses compounded the problems of trying to pull in bodies. "We're having trouble pulling them in, it's awful," one rescuer said from the scene overnight. The nationality of the dead and of all but one of the survivors was not immediately clear. "The identity of those on board is one of the most difficult and sensitive matters we face after an incident like this," a senior official in Abidjan for Dutch carrier KLM told Reuters. KLM owns 26 percent of Kenya Airways.

Kenya Airways technical director Steve Clarke told a news conference in Nairobi the plane was bought new in October 1986 and was being flown by a very experienced pilot. Rescuers searched for more than three hours after the crash, before they found the first sign of wreckage.