Date: August, 29th 1998
Type: Tupolev TU-154M
Registration: CU-T1264
Operator: Cubana de Aviacion
Where: Quito-Mariscal Sucre (Ecuador)
Report No.: Not Available
Report Date: -
Pages: -

This is not an accident investigation report.



QUITO, Ecuador - The death toll from the crash of a Cuban aircraft at Ecuador's Quito airport rose to 80 on Sunday after aviation experts searched the wreckage in hopes of pinning down the cause of the accident.

The Cubana de Aviacion plane, a Russian-made Tupolev, ploughed through airport fences and into a nearby field after it aborted a third attempt to take off on Saturday, witnesses said. It caught fire and exploded.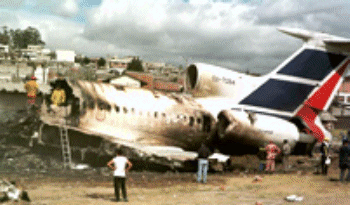 The civil aviation department said a total of 80 people had died by Sunday afternoon. The initial toll of 77 increased when one victim died in the hospital of severe burns and two more bodies were found at the site. Fifty-six passengers and all 14 members of the Cuban crew died in the crash, officials said. Another 10 people were killed on the ground -- four mechanics, a security guard at a workshop, and five people who were believed to have been getting ready to play soccer in the field where the plane blew up. Among the dead in the plane were five children who were earlier reported to have been playing soccer in the field. The civil aviation department said five of the 20 survivors from the plane were unscathed. The plane had been carrying 90 people to the the coastal town of Guayaquil after arriving from Havana on Saturday morning.

Officials said they found the plane's "black box" flight recorder after 15 Cubans from the Cuban Institute for Aeronautics arrived to help in the investigation. A statement was expected on Monday. The largest intact portion of the plane, the tail, was removed from the crash site for further investigation. The rest of the wreckage, surrounded by charred magazines and burned life vests, was being collected for further study. Cuba's state news agency Prensa Latina on Sunday released an official list of the casualties on the flight. Survivors included two Chileans, an Italian and three Cubans. The rest were Ecuadoreans. The dead on the plane included 24 Cubans, including the crew, an Italian, a Spaniard, a Jamaican and an Argentine. The remaining dead passengers were Ecuadorean.

Juan Falcon, a 75-year-old passenger who survived, told reporters he was traveling on vacation. "When the plane was picking up speed I heard a crack, the plane put on its brakes and everything caught fire," he said. "Since the flames were on the side, I threw myself to the ground. That's what saved me," he said. Civil aviation officials said the airport was handling traffic at its normal rate.