Date: July 25th, 2000
Type: Concorde
Registration: F-BTSC
Operator: Air France
Where: Paris, France
Report No.: Not Available
Report Date: -
Pages: -

This is not an accident investigation report.

An Air France Concorde crashed on take-off at Charles De Gaulle airport at Paris, France at 16:44 hrs local time. The aircraft took off and crashed approximately 5 miles from the airport at Gonesse.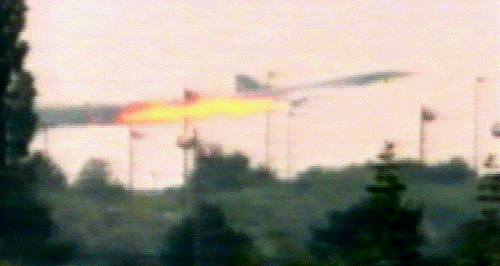 Eye-witnesses reported seeing fire in the Left Hand engine at take-off.



All 109 on board are reported by the French Interior Minister to have been killed. There were 97 adult passengers, 3 children, 9 air-crew. There are reported to be 4 people killed on the ground.

The aircraft was charted by the German company 'Thomas Deilman' the 100 passengers all German were on their way to New York to join a curse ship.

David Ingram another eye witness spoke of seeing black smoke and sheets of flame as the craft went down the runway for take-off. as it became airborne it disappeared behing a banking. There was a lot of smoke and flames. Another witness stated the aircraft pitched skywards, stalled followed by a plume of smoke as it crashed.

The crash took place at 4:44 p.m. local time (14:44 GMT / 10:44 a.m. EDT), just after the plane took off.

It was a sickening site, a huge fireball," reported eyewitness Sid Hare . "The airplane was struggling to climb and obviously couldn't get altitude." Hare, a Federal Express pilot who was at a hotel near the airport, said the plane went down in a ball of fire. He said he could "see smoke trailing" from one of the plane's two left engines before the crash.

"It started rolling over and backsliding down to the ground. At that point it was probably two miles from me,".

Eyewitnesses said the aircraft was not able to gain sufficient altitude before it crashed. Hare said the Concorde had reached an altitude of about 200 feet before flames started shooting from a left-side engine. "He (the pilot) kept raising the nose ... and the airplane stalled, the nose went straight up into the air and the airplane actually rolled over to the left and almost inverted when it went down in huge fireball when it hit ," Hare said.