Date: May 25th, 2000
Type: Air Liberté MD-80/Stream Line Shorts 330
Registration: -
Operator: Air Liberte
Where: Paris, France
Report No.-
Report Date: -
Pages: -

This is not an accident investigation report.

25 MAY: Ground collision Paris: 1 dead

A Stream Line Shorts 330 cargo plane collided on the ground at Paris-Charles de Gaulle with an Air Liberté MD-80, killing one pilot of the cargo plane. The passenger plane was carrying 150 Spanish soccer fans who had been in Paris for a Champions League match between Valencia and Real Madrid; the accident happened at 02.54h local time.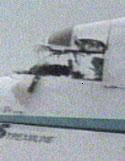 A British pilot has been killed, after a cargo plane collided with an airliner on a runway at Paris' Charles de Gaulle airport.

The airliner was carrying 170 Spanish football supporters, who had been watching the Champions League final in Paris between Real Madrid and Valencia. It is thought that the left wing of the Air Liberte MD80 plane struck the cockpit of a Shorts 330 cargo plane.

The British co-pilot of the cargo plane, operated by Streamline Aviation, died in the collision at 3am (2am British time)on Thursday morning. The pilot of the freighter was also injured in the accident which left the Air Liberte plane with a third of its left wing missing.

The ADP Paris airport authority confirmed that an Air Liberte MD80 plane collided with a plane from the Streamline Aviation company which was bound for Luton Airport. A statement said: "The collision killed one person on the spot, the co-pilot of the cargo plane. There were no other victims, fortunately. An inquiry has already been launched by the Government to try and discover the cause of the accident. British air accident investigators are also on their way to Paris. The accident closed down the runway for several hours and added to the havoc of returning some 20,000 Spanish fans home.