Date: December 21st, 1999
Type: McDonnell Douglas DC-10-30
Registration: F-GTDI
Operator: Cubana
Where: Guatemala City-La Aurora, Guatemala
Report No.-
Report Date: -
Pages: -

This is not an accident investigation report.

A McDonnell Douglas DC-10-30, registration F-GTDI, flight 261 from Habana to Guatemala City-La Aurora, crashed on landiing on the wet runway 19. It went down a steep slope and crashed into ten houses past the end of the runway. There were total of 17 fatalities of the 314 on board. It is also reported that 9 people on the ground were also killed.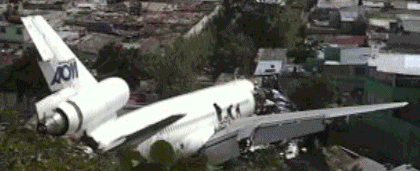 Authorities were trying to determine if the pilot ``overshot the runway,'' air traffic director Mario Grajeda said at a news conference. He said the aircraft's black boxes were retrieved and were being examined. Eight of the victims were crew members and nine were passengers, said Oscar Bonilla, the Guatemala City fire chief. The rest died in the neighborhood at the edge of Guatemala City's La Aurora international airport.

The crash destroyed two homes and damaged several others. The Red Cross distributed hot food throughout the neighborhood. Firefighters sprayed fire retardant foam on the plane to prevent spilled fuel from igniting the wood and brick shacks. Electricity also was cut off in the area to prevent sparks from igniting the spill, he added. The DC-10 was operated by Cubana de Aviacion and was on a charter flight taking students home for the holidays, according to airline representative Luis Polanco, who was also at the news conference.

The dead included the plane's pilot, Cecilio Hernandez, and Daniel Antonio Alarcon Fernandez, third secretary at the Guatemalan Embassy in Havana, said Health Minister Marco Tulio Sosa.