Date: December 19th, 1997
Type: 737-300
Registration: 9V-TRF
Operator: SilkAir
Where: Sungsang Village near Palembang, Sumatera, Indonesia
Report No.: Not Available
Report Date: -
Pages: -

This is not an accident investigation report.



A SilkAir, Singapore, Boeing 737-300 bearing flight number MI-185, on Friday (19/12) afternoon at about 16.30 West Indonesia Time exploded in mid-air and fell in pieces in the waters of the Musi River, Parit 12, Sungsang Subregency, Musibanyuasin Regency, some 70 kilometers north of Palembang, South Sumatra.

The aircraft took off from the Soekarno Hatta Airport, Jakarta, at 15.23 WIT, for Singapore. Until 23.00 WIT yesterday the fate of the 97 passengers and seven crew members was not yet known. Communication director general Sikado, as quoted by Antara, estimates that all passengers and crew members have perished.

As soon as they received reports, the Sungsang, Musibanyuasin police mobilized personnel to give assistance. The South Sumatra Police SAR team led by police district chief Brig.Gen. Deddi Ganrijadi Gantika, around 19.00 hours headed towards the location by speedboat. The Palembang-Sungsang distance was covered in two and a half hours.

Communications Minister H Dhanutirto, at 22.00 hours WIT left Halim Perdanakusuma by King Air Beechcraft directly for Palembang. With him went Air Communication director general Zainuddin Sikado, "Basarnas" head Harinto, and chairman of the AAIC, Prof Oetarjo Diran.

From the flight manifest, the twin jet aircraft was carrying 40 Singapore citizens, two Japanese, 23 Indonesians, four Germans, 10 Malaysians, five Americans, five French citizens, three British citizens, and one person each from Bosnia, Austria, India, Taiwan and Australia.

Singapore Airlines spokesman Rick Clements told the AFP news agency that six of the seven crew members were Singapore citizens, and one a New Zealand citizen. Reportedly the Singapore police have cordoned off the SilkAir service area in the Changi International Airport., where relatives of the victims are waiting for further news.

The Civil Aviation Authority of Singapore is reported to have sent two Super Puma helicopters to assist in the search operations.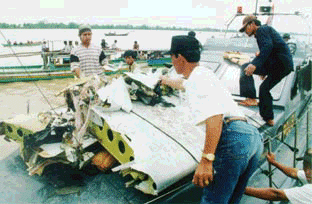 December 27, 1997 - Flight Recorder From Jet Found

JAKARTA, Indonesia - Rescue teams found one of two ``black box'' recorders today from the Singapore-operated jet that plunged into a river in Sumatra last week, killing all 104 people aboard.

Dwiyono, an officer at the Search and Rescue Post at Palembang Airport near the crash site, said divers retrieved the flight data recorder of the SilkAir Boeing 737-300 from the Musi River. The flight recorder tracks information including speed and altitude and the angle of the plane before the crash.

An accompanying voice recorder, which keeps a record of sounds and radio conversations in the cockpit, remained missing, he said. Black box information could be vital in determining the cause of the Dec. 19 crash en route from Jakarta to Singapore.

The flight data recorder was to be flown to the United States on Sunday for analysis, the official Antara news agency reported, quoting Indonesia's transportation minister, Haryanto Dhanutirto.

Indonesian investigators have neither the expertise nor the facilities to carry out such an analysis. Indonesian and Singaporean divers, guided by sonar readings, so far have retrieved only small pieces of the plane from the murky waters. Meanwhile, Indonesian and Singapore officials agreed today that mainly unidentified human remains found by divers should be buried in a common grave near the crash site, about 250 miles northwest of Jakarta.

Indonesian President Suharto had agreed to the concept of a common grave, Dhanutirto said. Singapore officials would have to agree to the location. Singapore's Transport Minister Mah Bow Tan, who visited the site on Friday, said he supported the plan for a common grave as long as the relatives of the victims agreed.

The data recorder reportedly was found in about 30 feet of water in the area where the plane hit the river and disintegrated. Experts from the U.S. Federal Aviation Administration and the National Transportation Safety Board, along with employees from Boeing and engine maker General Electric, have been assisting Indonesian investigators.

December 30, 1997 - SilkAir Flight Data Recorder Examined In U.S.

WASHINGTON (USA) - The flight data recorder from the Singaporean airliner that crashed into an Indonesian river earlier this month arrived in Washington on Tuesday for examination by U.S. safety experts.

The almost new SilkAir Boeing 737-300 disintegrated when it crashed into the Musi river in southern Sumatra on December 19. All 104 people on board were killed.

U.S. National Transportation Safety Board (NTSB) spokesman Jamie Finch said the recorder was being examined in the board's laboratory.

Only about 10 percent of the plane's wreckage has been recovered but the discovery of the flight data recorder on Saturday was regarded as a breakthrough.

Still missing is the cockpit voice recorder which could provide further vital clues to the cause of the mysterious accident.

SilkAir Flight MI 185 was flying at cruising altitude of 35,000 feet (10,600 metres) from Jakarta to Singapore in clear weather. Ground control received no distress calls from the plane.

This has led to speculation of a sudden, massive mechanical failure or perhaps a bomb, but investigators need evidence before drawing any conclusions.

Presuming it was working for part of the incident, the flight data recorder could tell of any unusual movements by the plane and its controls or changes in engine power.

Finch said the data would take a while to analyze as the various flight parameters recorded by the device had to be interpreted as a whole.

He also emphasized that the probe remained in Indonesian hands. ``This is not our investigation and we have only offered our assistance and the Indonesian government is in charge of this investigation,'' Finch said.

SilkAir is a unit of Singapore Airlines.

Updated 31/12/97