Date: July 17th, 1997
Type: Fokker F-27
Registration: PK-YPM
Operator: Sempati Air
Where: West Java town of Bandung, 80 miles southeast of Jakarta, Indonesia
Report No.: Not Available
Report Date: -
Pages: -

This is not an accident investigation report.




July 17, 1997 - Indonesian Plane Crashes With 45 On Board

JAKARTA, Indonesia - An Indonesian Fokker 27 aircraft crashed on Thursday
near the West Java town of Bandung with 45 passengers and crew on board.,

Officials at Bandung aiport said the Sempati Airlines plane bound for Jakarta
crashed about 13 km (eight miles) from the airport.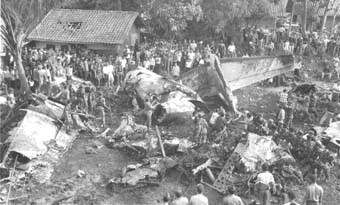 Witnesses said the Sempati Air plane burst into flames upon
impact. Rescuers recovered 11 bodies from the burning wreck. The
identities and nationalities of the victims were not released
immediately.

      The twin-propeller Fokker 27 crashed around 11:55 a.m. (12:55
a.m. EDT), 10 minutes after taking off from the Hussein
Sastranegara Airport in Bandung, 80 miles southeast of the capital,
Jakarta, Antara reported. The flight was headed to Jakarta.
      

The commuter plane heading to the capital with 45 people aboard lost power
shortly after takeoff Thursday and plunged to a fiery crash near a housing
complex, killing 28 people, Five Crew members and 23 passengers. 

Three people on the ground were injured. 

The Dutch-built Fokker 27 crashed 10 minutes after departing the Hussein
Sastranegara Airport in Bandung, 80 miles southeast of Jakarta. 

Witnesses said smoke spewed from one of the plane's engines seconds before it
fell from the sky, clipping roofs of three houses and a power pole. The plane
then plowed into red earth, broke up and burst into flames. 

The pilot had sent a mayday call seconds beforehand telling air traffic
controllers he had lost power and that he would attempt an emergency landing
at a nearby air force base, Transportation Minister Haryanto Dhanutirto said.

Traffic jams near the crash site held up emergency crews and ambulances. 

Rescuers from the base said they recovered 26 bodies from the crash site,
including all five crew members. Another 24 on board survived and were
hospitalized, most with serious injuries, air force Sgt. Maj. Budiarjo said. 

Three residents of the housing complex were injured by flying debris, Sgt.
Maj. Budiarjo said. 

One passenger was from Singapore, and everyone else aboard the flight was
Indonesian, the airline said. 

Sempati Air is one of Indonesia's main domestic airlines and is owned by a
conglomerate headed by the youngest son of Indonesia's President Suharto. 


---
Return to Airline Disasters 1920 - 1997 Database
---
Disclaimer:
While every effort is made to ensure accuracy, no representation is made as to the accuracy of, and no acceptance or any legal responsibility is taken for any errors, ommissions, mis-statements or mistakes within the pages of this web site or on other web sites which may be linked to this site from time to time.