Date: July 17th, 2000
Type: Boeing 737-2A8
Registration: VT-EGD
Operator: Alliance Air
Where: Patna, India
Report No.: Not Available
Report Date: -
Pages: -

This is not an accident investigation report.

Flight 7412 departed Calcutta around 06.50h for a flight to Patna, Lucknow and Delhi. Approaching Patna, eyewitnesses said they saw the aircraft wobble in the sky at a very low altitude for some time before its left wing was torn off after hitting a neem tree. The plane then grazed a few single-storied houses in a government residential housing estate at Aneeshabad and exploded into a ball of fire. The aircraft broke into four pieces.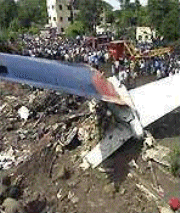 The aircraft in question, VT-EGD, had been involved in an accident 14 years ago. On January 15, 1986, the pilot of flight 529 attempted to land at Tiruchirapalli in conditions below weather minima. During a go-around the wing contacted the runway due to an excessive bank angle. The wing was substantially damaged but there were no injuries in this 1986 incident.