Date: September 14th, 1999
Type: Boeing 757-204
Registration: G-BYAG
Operator: Britannia Airways
Where: Gerona , Spain
Report No.-
Report Date: -
Pages: -

This is not an accident investigation report.

---- Update: It now appears that one of the passengers died, though at present it is not exactly clear whether or not this was caused directly or indirectly by the injuries sustained in the crash. The passenger died of a suspected heart attack at his holiday hotel on the Costa Brava, five days after the incident. He had received treatment for head injuries before deciding to carry on with his holiday. -----

Gerona (Spain) Flight BY226A took off from Cardiff at 20.40h for a non-scheduled passenger flight to Gerona. Weather at Gerona was poor (rainstorm). On reportedly the second attempt to land, the aircraft skidded off the runway at about half way and continued slightly downhill about 500 metres into a field. The landing gear and engines separated during the slide. The aircraft came to a rest broken in 3 parts, 247 passengers and crew survived, 55 people were treated in hospital, latest reports are that one of the passengers died.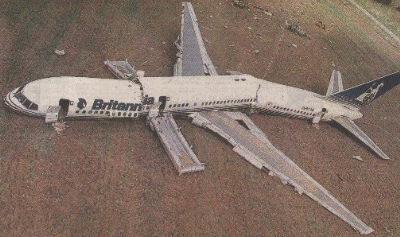 It was reported that pilot Brendan Nolan, age 55, flew into violent storms that buffeted his aircraft which had forced earlier flights to divert. Fierce turbulence and violent gusts of wind combined with lighting and driving rain to make landing conditions almost impossible.

A spokesman for Gerona airport's air traffic control stated that shortly before the aircraft tried to land three other planes had been diverted to Gerona from Barcelona where thunderstorms had made landing conditions very dangerous. A few minutes after those three planes arrived the storms closed in on Gerona, there was a lot of rain and lightning.

Comment has been made from various aviation sources expressing concern that yet another avoidable accident has occurred. In the age of modern aviation technology including computerised air traffic control, aircraft flight and warning systems and sophisticated weather prediction, lessons from previous incidents involving bad weather are not being learnt.

Questions being asked are:

Given the weather conditions, evident to the passengers, why did the aircraft not divert to an airport other than Barcelona at an earlier stage in the flight or after the initial abortive attempt at landing. A 757 has a range of 4000 nm Cardiff to Gerona is a mere 700 miles?

It is now predicted that current accidents rates which have occurred during the past decade will continue into the new millennium. This view is supported by the European Parliament report (1997) into Air Safety by Conservative MEP Anne McIntosh. The report warns of "One major air crash every week could be the norm within 20 years unless safety standards are improved". How long do passengers have to wait until the issue of air safety is properly addressed by governments?

How many more similar accidents have to occur before action is taken?