Date: December, 11th 1998
Type: Airbus A-310-240
Registration: HS-TIA
Operator: Thai Airwary International
Where: Surat Thani, Thailand
Report No.-
Report Date: -
Pages: -

This is not an accident investigation report.

BANGKOK, Thailand - A Thai Airways jetliner carrying 146 people crashed into a swamp in southern Thailand today as it tried to land in a heavy rain.

An investigation has begun into the causes of the air crash in southern Thailand which left 101 people dead.

Both the plane's flight recorders have now been found.

Hundreds of rescue workers laboured all day in waist-deep mosquito-infested swamp water to recover bodies. Thai officials say all passengers have now been accounted for.

Forty-five people survived the crash of the A310-200 Airbus into a swamp near the airport of Surat Thani.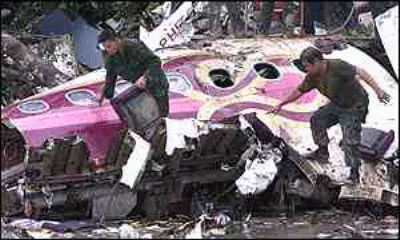 By midnight, police and rescuers struggling in thigh-high water had managed to pull 26 bodies from the charred wreckage. Two were identified as Westerners. Scores more bodies were still trapped in the plane, many of them burned beyond recognition, police said.

The Thai Airways Flight TG261 from Bangkok crashed about 6:45 p.m. three miles from the Surat Thani airport.

Rain was heavy in Surat Thani, 330 miles southwest of Bangkok, and rescuers had difficulty sending ambulances to the crash site. But the water that hampered rescuers may have cushioned the aircraft's impact, officials said.

A police officer, speaking on condition of anonymity, said the plane made three turns around the airport in a heavy storm before attempting to land. Visibility remained bad on the final approach.

Flight attendant Akadek Pudemha described the crash to Thai television from his hospital bed.

``The plane was circling around the airport, going up and down,'' Akadek said. ``We figured that if we couldn't land on the third try, we would return to Bangkok. The plane was shaking the whole time and we crashed on the third try. Then the plane was on fire and I urged the passengers to jump out. They were reluctant to jump.''

One of the survivors shown on television was a boy, about 10, who had wounds on his forehead.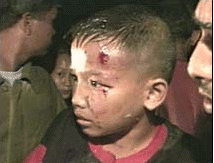 Another survivor, popular musician Reungsak Loychusak, told a television station from his hospital bed: ``My whole left side is in pain, I can barely move.''

The airline released a passenger manifest which indicated that most of the 132 passengers were Thais, but there were also several Western and Japanese names. The manifest did not list the passengers' nationalities.

An airline spokesman said the plane was an Airbus A310-200 with 245 seats, one of two in the airline's fleet.

Transport and Communications Minister Suthep Thaugsuban told reporters in Bangkok that his sister Siriwan had been on the flight, and he had been scheduled to take it until he canceled at the last minute.

Suthep, who did not know the condition of his sister, expressed dismay that he learned about the crash first from relatives in Surat Thani, rather than from the mostly government-owned airline, which he supervises.