---
SkyNet - Special Report

---
Date: January 10th, 1954
Type: De Havilland Comet 1
Registration: G-ALYP
Operator: BOAC
Where: Elba Island, Italy
Report No.: Not Available
Report Date: -
Pages: -


---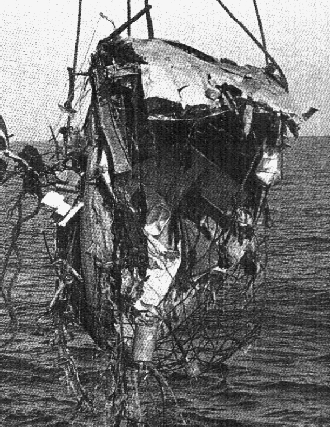 This is not an accident investigation report.





On 10th January 1954 BOAC Comet 1 registration G-ALYP crashed from a height of 27,000 feet in good weather into the Tyrrhenian Sea near the Island of Elba, Italy. Local fishermen witnessed the tragedy describing a "flaming falling mass"



The Comet had departed from Rome's Ciampino Airport at 10:31 local time for the flight (BA781) to London as the last leg of a scheduled service from Singapore. Captain Gibson reported to Ciampino air traffic control indicating a normal take-off.



Photograph: shows part of the fuselage being salvaged from the ocean floor some 500 feet down near the Island of Elba.


---
The last message transmitted by the Captain was to another BOAC aircraft in the area, regarding reports of cloud heights.


Local time

10:52  Captain Gibson "George How Jig from George Yoke Peter, did you get my....?


The message broke off.

A total of 35 were killed in the disaster, 6 crew and 29 passengers including 10 children. The British Air Accident Investigation Branch sent investigator Bob Nelson to Italy to co-ordinate the salvage operation and gather evidence. An Italian Commission convened to look at the evidence decided that the responsibility for investigating the accident should be undertaken by the County of Registration.




---


Top photograph 2nd May 1952 Comet G-ALYP preparing for its maiden scheduled passenger flight from London to South Africa as the worlds first jet passenger service.

Below: Reconstruction of G-ALYP at Royal Aircraft Establishment(RAE)Fairnborough, showing the scaffolding frame used to support the remains of the fuselage as part of the accident investigation process.
---


All wreakage was sent to the Royal Aircraft Establishment(RAE)Fairnborough, England, this was pieced together on a frame. Some seven months after the crash parts of the upper fuselage including the centre section containing the ADF windows was also recovered. John Cook one of the members of the accident section had been waiting on this vital section of the aircraft to arrive at the RAE. Examination showed signs of metal fatigue around the corners of the ADF windows, along with other signs of failure in this section of the fuselage.


---

Click here for link to full Accident Investigation Report for G-ALYP
Thanks to Marc Schaeffer
---
SkyNet Special Report complied by David Lisk (c)1997
---
Return to Airline Disasters 1920 - 1997 Database
---
Disclaimer:
While every effort is made to ensure accuracy, no representation is made as to the accuracy of, and no acceptance or any legal responsibility is taken for any errors, ommissions, mis-statements or mistakes within the pages of this web site or on other web sites which may be linked to this site from time to time.