Date: January 10th, 2000
Type: Saab 340B
Registration: HB-AKK
Operator: Crossair
Where: Niederhasli, Switzerland
Report No.-
Report Date: -
Pages: -

This is not an accident investigation report.

Crossair scheduled passenger flight 498 from Zürich-Kloten to Dresden (Flightnumber 498) taxied to Runway 28 at 17.48h local time. Take-off was commenced at 17.54.40' hrs. Radar contact was lost 17.56.36' hrs. The aircraft apparently crashed on climbout at Niederhasli, some 8 km from the airport. There were 3 crew and 7 passengers all were killed in the accident. Weather reported included temperature 2deg C; dewpoint 1deg C; 1032 mB wind WNW/3kts and light drizzle.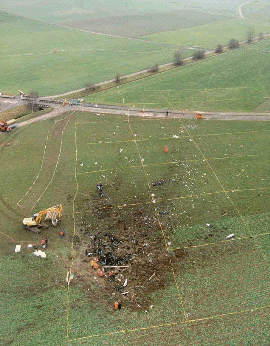 As darkness fell police and firefighters suspended their search for the "black box" flight recorders which could explain why a commuter plane crashed killing all 10 people on board.

Crossair flight 498 went down in a fireball on shortly after taking off from Zurich's international airport in drizzly weather. It was heading for the German city of Dresden. Debris from the Saab 340 aircraft was buried in mud at the crash site, hampering search and recovery efforts. The wreckage was strewn over 500 metres (yards) of terrain near the village of Niederhasli.

Investigators on Tuesday were still seeking the cause of the crash, the first in Crossair's 20-year history.

"The pilots were both highly experienced and had completed examinations at Crossair that correspond to Swiss standards," Crossair said in a statement.

The crew consisted of a Moldovan pilot, a Slovak co-pilot and a French stewardess.


The company said the plane had been airborne for just two minutes when radar contact was lost. The last contact with the pilot was recorded about 30 seconds earlier. After this final radio message, the plane swerved to the right, although the normal flight path would have taken the it in the opposite direction, Crossair said. The reasons for the unusual manoeuvre remain unknown. The Swiss federal office in charge of investigating air crashes said it had launched an official probe into the crash.

The aircraft had been in the Crossair fleet since 1990 and accumulated 21,600 flight hours. It was due for a routine technical check at the end of the month.

Four of the seven passengers on board the ill-fated plane were German citizens. Others were a Frenchman, a Spaniard and a Swiss national.

The captain was an employee of MDV Moldavian Airlines, temporarily transferred to Crossair. He has a total flying experience of 8100 hrs, of which 1900 hrs on the Saab 340B. The First Officer had a total experience of 1800 hrs, of which 1100 hrs. on the Saab 340B.