Date: November 9th, 1999
Type: DC-9
Registration: XA-TKN
Operator: TAESA
Where: Uruapan,Mexico
Report No.-
Report Date: -
Pages: -

This is not an accident investigation report.

All 18 people aboard a Mexican DC-9 jetliner Flight 725 were killed when it crashed shortly after takeoff in a mountainous region of central Mexico. The crash occurred "four miles south of Uruapan", the Transport Ministry said in a statement.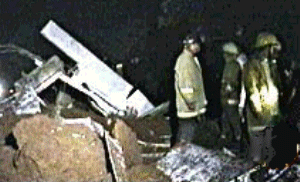 Wreakage


The plane, a 29-year-old twin-engine jet, was flying from Uruapan, about 185 miles west of Mexico City, to the capital on a scheduled flight operated by private Mexican airline Transportes Aereos Ejecutivos (Taesa). Witnesses reported seeing a brilliant light in the sky and debris falling in the mountains 10 kilometers (6 miles) southwest of the town of Uruapan.

TAESA Flight 725 was carrying 13 passengers and five crew members when it crashed about five minutes after taking off from Uruapan in the state of Michoacan around 7 p.m. (8 p.m. EST) en route to Mexico City. The crash site is about 180 miles west of Mexico City.

Inspector Juan Alfonso Lara of the Michoacan state civil protection agency said that TAESA flight 725 apparently exploded in the air. However, there were conflicting reports. One witness, Felipe Guzman, said the plane was on fire as it hit the ground on an avacado plantation and then exploded. "After that, there were other explosions," said Guzman, the plantation's caretaker. Agustin Gutierrez, TAESA's state manager in Michoacan, said the plane nosedived into the plantation after apparently having some kind of malfunction. TAESA spokesman Eduardo Cacho said at a news conference that the cause of the accident is under investigation. The airline has no information about whether the plane had any maintenance problems during the day or about communications between the crew and the flight tower, Cacho said.

"We don't have definitive information and we don't want to speculate," he said. The flight had originated in Tijuana with 91 passengers, went to Guadalajara and then to Urupuan, with most of the passengers disembarking along the way. Lara said rescue crews were in the area, but there was no chance of finding survivors from the plane. "It was completely destroyed," he said. At the airport in Mexico City, relatives of those who had been aboard the plane hugged each other and tried to console each other. TAESA was founded in 1988 as an air taxi and expanded to commercial operations in 1991, using low cost fares to challenge established Mexican carriers.

Local residents told media they heard an explosion before the plane fell suddenly near Uruapan. Televisa network said the plane was totally destroyed. ``A bang was heard, the engines broke and the plane nose-dived,'' Uruapan Red Cross director Alejandro Moreno told Radio Formula. ``It was flight 725, carrying 13 passengers and five crew. Unfortunately they all died,'' Michoacan state press spokesman Ricardo Saldana told Reuters. ``The flight came from Tijuana, landed in Uruapan, unloaded passengers and took off en route to Mexico City. A few minutes after taking off it dived into a somewhat inaccessible area,'' Saldana said. ``Two minutes after (take off) it declared an emergency without giving the causes, (and) lost contact,'' the Transport Ministry said in a statement.

Televisa network showed rescue workers probing among wreckage strewn over a radius of 300 yards in an avocado orchard in a wooded, mountainous zone. ``The plane fell and was totally destroyed,'' Televisa said. ''Unfortunately, body parts have begun to be found.''

In Seattle, a spokeswoman for Boeing Co., Susan Davis, said that Mexican authorities had requested that the company send a representative to help the investigation, which Boeing would do.

The plane that crashed in Mexico on Tuesday was delivered in 1970 and had been through several operators, before being operated for about the last year by Taesa, Davis said. It had logged 58,000 flight hours on 59,000 flights.

Taesa's Cacho said he could give no cause for the accident, because the aircraft had reported no mechanical problems before take off.

The accident could have been far worse, because the aircraft had originally taken off with 91 passengers in Tijuana, which borders San Diego, California. Most disembarked in the western city of Guadalajara, then Uruapan.