Date: July 9th, 1997
Type: Fokker 100
Registration: -
Operator: TAM
Where: Sao Paulo, Brazil
Report No.: Not Available
Report Date: -
Pages: -

This is not an accident investigation report.


July 9, 1997 - Passenger Sucked Out Of Brazilian Jet

SAO PAULO, Brazil - A passenger was sucked out of a Brazilian airplane and fell to his death after an explosion tore off an emergency door on Wednesday, police said.

The TAM airline Fokker-100 made an emergency landing at Sao Paulo's domestic airport after a blast at the back of the plane tore off the emergency hatch and part of the fuselage.

"I was sitting in the front but I could feel I was being sucked towards the hole in the fuselage," passenger Eloir Cavati said. "The cabin pressure fell sharply. There was panic and we all started praying, even the flight attendants."

Police found the body of the missing passenger Fernando Caldera de Moura and parts of the plane in a field 30 miles (50 kms) from Sao Paulo.

TAM officials said five of the 61 passengers and crew on board flight 283 were injured in the emergency landing.

Cavati told Reuters there was a loud explosion at the back of the aircraft shortly after take-off from Sao Jose dos Campos which blew off the emergency door on the right side.

The plane was flying from Vitoria in Espirito Santo state to Sao Paulo with a stopover in Sao Jose dos Campos.

The accident came eight months after another Fokker-100 TAM aircraft crashed into homes in a densely populated area of Sao Paulo after taking off from Congonhas domestic airport, killing 98 people including two on the ground.

TAM is Brazil's leading regional carrier and its fastest growing airline. Brazilian business magazine Exame recently voted TAM company of the year.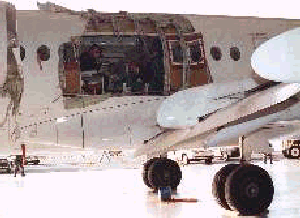 Additional information issued:
July 11, 1997 - re. Brazil Probes Plane Explosion (9th July 1997)

SAO PAULO, Brazil - An ``illicit substance'' hidden in a suitcase might have caused an explosion aboard a Brazilian jetliner that hurled a passenger 8,000 feet to his death, an investigator said..

The explosion aboard a TAM Airlines Fokker jet blew a hole in the fuselage. Three seats were sucked out of the plane and a 38-year-old man Fernando Caldeira de Moura fell 8,000 feet to his death. Six other passengers were injured.

The jetliner, carrying 55 passengers and a crew of five, was forced to make an emergency landing at Sao Paulo's airport.

``There are indications that the explosion was caused by an illicit substance,'' said Col. Juan Enrique Vargara Canto, head of the Air Force's Regional Civil Aviation Service. He declined to elaborate.

Other investigators said the explosion might have been caused by chemical products in a suitcase. ``By the traces, it was a chemical product,'' Air Force Maj. Divonsir Vaz said. Lt. Carlos Zorio of Sao Paulo state police also said there were signs of a chemical explosion. Luiz Eduardo Falco, vice president of TAM airlines, said the plane had no potentially explosive material in the section where the explosion occurred and that the possibility of a bomb was not ruled out.

Infraero, which operates 67 domestic airports, said it would spend about $8.3 million to beef up security. The jet was traveling from Vitoria to Sao Paulo when the blast occurred.

Fernando Caldeira de Moura's body was recovered from a field near Sao Paulo. In his jacket pocket was a ticket showing he had left his assigned seat 7C and moved 11 rows back to an unoccupied section.

The Air Force is heading the investigation and has three months to conclude its report. Last year, another TAM Fokker-100 crashed into a crowded neighborhood, minutes after taking off from Sao Paulo's airport, killing all 96 on board and three on the ground.

Further Update:

July 18, 1997 - Probe: Brazil Plane Blasted By Bomb (9th July 1997)


A bomb hidden in a suitcase was the cause of last week's explosion aboard a Brazilian jetliner that hurled a passenger 8,000 feet to his death, investigators confirmed Friday.

The July 9 blast aboard a TAM Airlines Fokker jet carrying 60 people blew a hole in the fuselage. A 38-year-old man was sucked through the opening, and six other passengers were injured.

Police said a letter signed by a previously unknown group, simply calling itself MRAS, claimed responsibility. The letter made references to social injustice and official corruption.

The jet made an emergency landing at Sao Paulo's metropolitan airport. ``The explosion was caused by a bomb, purposely built to that end,'' Osvaldo Negrini, technical director of the Sao Paulo State Police Department's Institute of Criminology, said by phone. He said a remote control or time device could have been used to detonate the device.

Air Force officials said never before has a Brazilian plane been the target of a bomb attempt.


---
Return to Airline Disasters 1920 - 1997 Database
---
Disclaimer:
While every effort is made to ensure accuracy, no representation is made as to the accuracy of, and no acceptance or any legal responsibility is taken for any errors, ommissions, mis-statements or mistakes within the pages of this web site or on other web sites which may be linked to this site from time to time.