Date: April 8th, 1954
Type: Comet 1
Registration: G-ALYY
Operator: South African Airways (chartered)
Where: South of Naples
Report No.: Not Available
Report Date: -
Pages: -

This is not an accident investigation report.

Comet 1 registration G-ALYY was chartered by South African Airways. On 7th April 1954 the aircraft departed from London to Rome on the first leg of the Journey to Johannesburg as flight number SA201.

The departure for the second leg was delayed for some 25 hours due to problems concerning 30 bolts on the left wing panel which had worked loose. This had been due to work carried out in London resulting in the panel being incorrectly secured. In addition to this a problem was identified with the fuel gauge this was also rectified.

The aircraft commanded by Captain W Mostert took off for the second leg of the flight from Rome on Thursday 8th April 1954 at 18:32 hrs GMT. There were on board 14 passengers and 7 crew members.

The flight proceeded as normal climbing to a crusing height of 35,000 feet, during this time the crew reported in over the Ostia beacon, again at the Island of Ponziane, with a third report made when their flight path passed alonside Naples. The final transmission made was received by Cairo reporting an estimated arrival time of 21.20 hrs GMT.

The aircraft had crashed in to the Tyrrhenian Sea Killing all on board. The aircraft was never recovered. Two Royal Navy ships were sent to the area the HMS Darling a Destroyer and HMS Eagle an Aircraft Carrier. HMS Eagle recovered 5 bodies from the ocean on the 9th April 1954 and a 6th body was found washed ashore.

---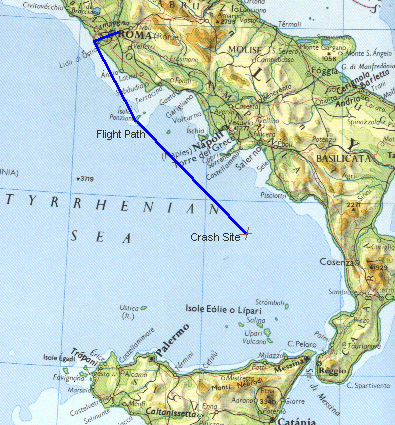 Flight path and Approximate Crash Site location for G-ALYY
---
Report complied by David Lisk (c)1997
---
Return to Airline Disasters 1920 - 1997 Database
---
Disclaimer:
While every effort is made to ensure accuracy, no representation is made as to the accuracy of, and no acceptance or any legal responsibility is taken for any errors, ommissions, mis-statements or mistakes within the pages of this web site or on other web sites which may be linked to this site from time to time.