Date: October 6th, 2000
Type: DC-9
Registration: -
Operator: Aeromexico
Where: Reynosa, Tamaulipas, Mexico
Report No.: Not Available
Report Date: -
Pages: -

This is not an accident investigation report. - Excerpts from world news reports --

It was reported that at least six people were killed on when an Aeromexico DC-9 carrying 83 people ploughed into houses and vehicles in heavy rain after careering off the runway in northern Mexico, officials said.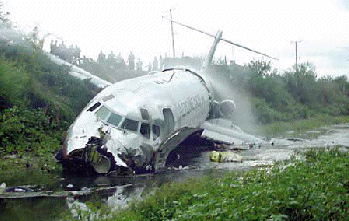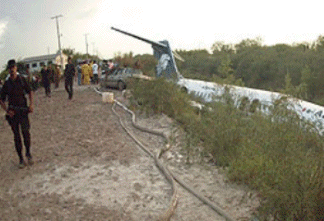 A Red Cross spokesman in the town of Reynosa in Tamaulipas state near the U.S. border told local radio six people on the ground were killed and up to 11 injured, contradicting early reports of some 40 casualties.

Jose Manuel Diaz de Rivera, spokesman for Aeromexico, run by government-owned Cintra (CINTRAA.MX), said those who died were on the ground and that no passengers were killed. `Five passengers and one crew member were slightly injured and taken to hospitals nearby,'' he noted. He said there were 83 people on board. Initial radio reports said the plane was carrying around 100 people.

A spokesman for the airport said the accident was caused by heavy rainfall. Toffic Salum, director of Tamaulipas civil protection, said: ``It (the plane) crashed into houses near the runway.''

Over the past few days the Mexican Gulf has been lashed by strong rains and winds from tropical depression Keith, which on Thursday was downgraded from a hurricane after a rampage through Central America.

Raul Galvez, a passenger on the plane, Aeromexico Flight 250 from Mexico City to Reynosa, told the radio: ``It was raining heavily when the plane landed and overshot the runway ... people were killed in vehicles that were hit by the plane,'' Galvez said.