Date: August 5th, 1997
Type: Boeing 747-3B5
Registration: HL 7468
Operator: Korean Air Lines
Where: Pacific Ocean island of Guam-Agana
Report No.: Not Available
Report Date: -
Pages: -

This is not an accident investigation report.

August 5, 1997 - South Korean Airliner Crashes On Guam

WASHINGTON, Aug 5 - A Korean Air Lines (83800.KS) Boeing 747 airliner with 331 people on board crashed on the Pacific island of Guam on Tuesday, a doctor at Guam Memorial Hospital told CNN.

Dr. Michael Cruz said the hospital had been put on alert for possible survivors. CNN said KAL Flight 801 was heading for Guam from Seoul when contact was lost as the plane was about three miles (five km) from the airport.


(UPDATED INFO)

HONOLULU (AP) - A Korean Air jumbo jet with at least 231 people aboard crashed while trying to land in the middle of the night, authorities said today. Police said 29 people survived.

Flight 801 from Seoul, South Korea, to Guam was cleared to land when contact was lost as the jetliner was three miles from Agana International Airport, said Tom Rea, the Federal Aviation Administration's Pacific representative in Honolulu. It was early Wednesday, Guam time.

Frank Matane of Guam Police told MSNBC that 29 people apparently survived. He said the plane went down ``in rough terrain, up in the hills.'' Radio station KOKU in Guam said the plane crashed on Nimitz Hill, a rugged, forested hill on the approach to the airport.

Rea said 331 people were on board; but airport spokesman Jay Sprague said later that 231 were aboard, and Korean Air said there were 234 passengers plus about 10 crew members. The airline said the plane was an Airbus, while the FAA said it was a Boeing 747.

"It rained off and on all day, but it's too early to say if weather was a factor" There was a widespread fire area on the ground, Sprague said.

The National Transportation Safety Board is sending a team from Washington to investigate.

Additional Information

The Korean Air jetliner that crashed in Guam was approaching an airport where a transmitter that helps guide planes was disconnected and the control tower was staffed by contract employees, federal officials said. Investigators planned to look into whether those factors played a role in today's crash of Flight 801, a Boeing 747 from Seoul, South Korea.

The glide slope transmitter at A.B. Won Pat International Airport was down for maintenance when the plane crashed at 2 a.m. local time (noon EDT Tuesday), Federal Aviation Administration officials said. The transmitter, which shows a pilot how far he is from the ground, is one of two principal components of an instrument landing system. The other, a localizer, shows how the plane is lining up with the runway.

FAA and National Transportation Safety Board officials also said the control tower was operated under contract, rather than by FAA controllers. NTSB Chairman Jim Hall, who was in the Seattle area Tuesday for unrelated meetings with Boeing officials, would not discuss the Guam tower or the inoperative glide slope transmitter. To questions about each, he replied, ``That's something that we're certainly looking at in the investigation.'' Pilots were notified July 7 that the glide slope equipment would be down for maintenance until Sept. 12, FAA officials said. Glide slope transmitter outages are ``not uncommon,'' and pilots routinely land by using the localizer readings and following a stairstep pattern to the airport, said Jeff Guzzetti, an NTSB investigator in this Seattle suburb. Under those circumstances, Guzzetti said, the minimum visibility required for landing is usually increased. Visibility landing requirements in Guam could not be immediately determined. At the time the plane went down in the dense jungle three miles from the airport, it was raining heavily with broken clouds at 1,900 feet and overcast skies at 3,500 feet. The Guam airport has the nation's only contract tower that directs 747s and other large passenger planes, said Tim Pile, an FAA spokesman in Auburn.

The use of contract towers dates from 1982, beginning as an outgrowth of the air traffic controllers strike and later expanding as a cost-cutting move. Out of 684 towers nationwide, 125 at ``low activity'' airports are staffed by privately employed air traffic controllers, said Fraser Jones, an FAA spokesman in Washington, D.C. ``Low activity'' refers to the number of flights, although the type of planes and other factors also are considered in tower staffing decisions, Pile said.

The Guam airport handles 64,124 flights a year, well within the typical contract tower range of 50,000 to 100,000 flights, he said. The last crash at the airport was March 1, 1978, when an Island Air shuttle Cessna 337 crashed shortly after takeoff, killing two people. Two years earlier, 45 people were killed when an Air Manila four-engine Lockheed Electra turboprop crashed as it took off for a flight to Manila in the Philippines.


---
About the Aircraft

The aircraft was a Boeing 747-3B5, delivered to Korean Airlines in December 1994. The jet had accumulated just under 50,000 hours flight time in 8,433 flights.
---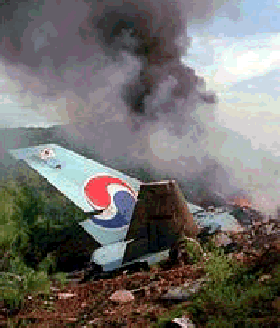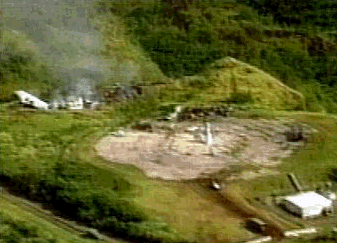 ---
The latest reports (7th August 1997)indicate that of the 254 occupants there were 27 survivors and 227 fatalities.
---