Date: September 3rd, 1997
Type: Tupolev 134B-3
Registration: VN-A120
Operator: Vietnam Airlines
Where: Phnom Penh, Cambodia
Report No.: Not Available
Report Date: -
Pages: -

This is not an accident investigation report.

PHNOM PENH, Cambodia - A Vietnam Airlines jetliner crashed in a ball of flames on a landing approach to Phnom Penh's international airport, killing 65 people. Only one Thai toddler survived.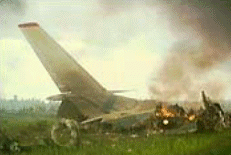 The Soviet-built Tupolev 134 plane, arriving from Ho Chi Minh City, Vietnam, went down in a rice paddy about a half-mile south of the runway during a downpour, clipping palm trees and exploding into flames on impact, witnesses said.

The Tupolev 134 was approaching the Pochentong International Airport runway from the east at about 2,000 feet when the control tower ordered the pilot to attempt an approach from the west. Tith Chantha, chief of the control tower, said the crew lost communication with the tower, and three minutes later the plane was diving into palm trees. It leveled trees and bamboo stands, killed a tethered cow and slid 200 yards in a dry rice paddy before exploding and skidding to a fiery stop.

A 1-year-old Thai boy, Phai Bun, was the only survivor. He suffered a broken leg and was reported by doctors to be in stable condition. The child's mother was killed.

Four people initially survived, but two men - one Japanese - died at the capital's Calmette Hospital, doctors said. A Korean boy, Oh Sung-hyuk, 4, succumbed to serious burns.

The cause of the crash was unknown. The wreckage was still burning more than one hour after the 1:40 p.m. (12:40 a.m. EDT) crash.

Fire trucks and rescue workers were hampered by a narrow, flooded dirt road that was the only route to the crash site. A plume of smoke rose over the airport.

The plane was carrying six crew and 60 passengers, mostly nationals of South Korea, Taiwan and Japan, Vietnam Airlines officials in Ho Chi Minh City said. The aircraft, designed in the 1960s, seats 67 passengers normally, airline officials said. South Korean Ambassador Park Kyung Tai said 18 passengers from South Korea were on board. Taiwanese state radio, citing Taiwanese businessmen and lawmaker Tseng Chen-nung from Phnom Penh's airport, said at least 21 Taiwanese had been aboard.

An unspecified number of Germans also were believed to be on board, said Cambodia's secretary of state for information, Khieu Kanharith. Police were looking for scraps of paper and passports that might help identify the victims. Witnesses said that the plane appeared to be making a landing approach when the pilot realized he had overshot the runway. The nose started to rise, but then the plane crashed. ``I was playing and I heard the sound of the plane, and then a very noisy BOOM!'' said Roeun Phirum, a 12-year-old boy. ``The plane hit a bunch of trees and went into the paddy and slid about 200 yards. It hit a cow tied to bamboo trees.''

Only the tail section of the plane and a portion of the fuselage remained intact. Ib Vanna, a farmer who was plowing his field, was about a half-mile from the plane when it crashed. ``There was this huge explosion,'' Ib Vanna said. ``It sounded like the gas tanks had exploded.'' The airport was not closed. Only one flight between Bangkok and Phnom Penh was canceled.

Vietnam Airlines was one of the first commercial carriers to resume service to Phnom Penh's Pochentong International Airport in the wake of a bloody coup in July where fighting was heavy around the airport. The airport was badly looted during the fighting by soldiers loyal to coup leader Hun Sen. A Vietnam Airlines Tu-134 crashed in Bangkok, Thailand, in 1988, killing 75 people. The Tu-134 was once the mainstay of Vietnam Airlines' fleet. In recent years, Vietnam has steadily been replacing its aging fleet of Soviet-built aircraft with Western planes, including Boeings. The airline signed a $15 million syndicated loan with ANZ Investment Bank on Aug. 25 to help buy new aircraft.

Last update: 5th September 1997