---
SkyNet - Special Report

---
Date: May 5th, 1953
Type: De Havilland Comet 1
Registration: G-ALYV
Operator: BOAC
Where: Jagalgori, Calcutta
Report No.: Not Available
Report Date: -
Pages: -


---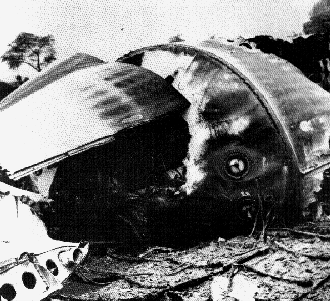 This is not an accident investigation report.



Exactly a year earlier the first commercial Comet flight aircraft registration G-ALYP/Yoke Peter (later to crash on 10th January 1954 Italy) took place on 2nd May 1952.

On this anniversary G-ALYV(Yoke Victor), crashed 25 miles west of Calcutta killing all 43 passengers and crew on board. At the time a 14 year old boy from Jugalgari village reported he saw a red flash and what looked like a wingless airplane low over the sky. The aircraft crashed hitting trees and exploding. Wreakage was strewn over and eight square mile area the wings and engines being found four miles apart.


---

The aircraft had earlier landed at Dum Dum Airport Calcutta to take on fuel for its flight on to Delhi. The last radio transmission from Captain M Haddon was received six minutes after take-off:


Captain Haddon (in command) "climbing on track"


The aircraft was passing through a violent storm when it broke up. Air accident investigator Bob Nelson of the Air Accident Investigation Branch United Kingdom along with Indian investigator Shri Ram Malhotra worked to piece the evidence together.

The Indian public inquiry was able to establish that a failure took place in the port elevator spar. This in turn caused the wing to fail at rib number seven. It was the conclusion of the enquiry that G-ALYV had encounted weather so severe that any aircraft might have been in danger. This exceptional turbulance might also, it was suggested, have caused the pilot to overcorrect thus causing overstressing of the airframe.

Some of the wreakage was returned from Calcutta to the Royal Aircraft Establishment(RAE), Farnborough for analysis, however some of the wreakage had been disposed of in India and there was insufficient wreakage to draw further conclusions.


---
Click here - to view May 1950 Popular Science Monthly cover re. Comet
---
Report complied by David Lisk (c)1997
---
Return to Airline Disasters 1920 - 1997 Database
---
Disclaimer:
While every effort is made to ensure accuracy, no representation is made as to the accuracy of, and no acceptance or any legal responsibility is taken for any errors, ommissions, mis-statements or mistakes within the pages of this web site or on other web sites which may be linked to this site from time to time.