Date: June 1st, 1999
Type: McDonnell Douglas Super 80
Registration: N215AA
Operator: American Airlines
Where: Little Rock, USA
Report No.-
Report Date: -
Pages: -

This is not an accident investigation report.

FORT WORTH, Texas – Flight 1420, an American Airlines McDonnell Douglas Super 80 jet en route to Little Rock from Dallas/Fort Worth, went off the runway after landing at Little Rock at approximately 11:50 p.m. CDT Tuesday, June 1. Lightning and a violent thunderstorm with 50mph winds were reported in the vicinity of the airport.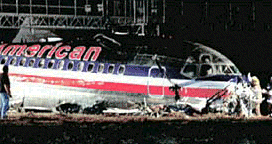 Preliminary reports indicated that the aircraft fuselage is broken in multiple locations and that a fire occurred in the rear of the aircraft after it came to a stop.

The preliminary passenger list indicated the aircraft was carrying 139 passengers and crew of six (two cockpit crew members and four flight attendants). Nine fatalities were reported as a result of the accident 8 passengers and the Captain Richard Buschmann of Chicago, a 20-year veteran with American Airlines.

Eighty-three people were injured. Fifty-one others did not require hospital treatment, and two people were not immediately accounted for.

Officials said the plane, a McDonnell Douglas Super 80 (MD-80), landed on runway 4 right, heading northeasterly, and immediately went into a spin. The jet skidded the length of the 7,200-foot long runway before hitting the landing lights and splitting into at least three pieces. The crumpled fuselage then crossed a road and came to a halt 1,000 feet from the runway on the bank of the river, spun around with its tail section facing the water.

The impact on the left side of the cockpit peeled away the airplane's metal skin down the left side of the first-class section. The back section of the plane whipped around and broke away from the front half as the plane went over a levee and struck the light rigging. Fuel spilling from the broken fuselage ignited a fire that burned about a third of the jet which ended up at the edge of the Arkansas River.

The aircraft an MD-80 underwent its last "B" check six weeks ago and had its intensive "C" check in January 1999.